Would you like to commemorate a loved one with a beautiful memorial bench? We are leading manufacturers and suppliers of hand-crafted remembrance and memorial benches. We understand that choosing a bench for someone you have lost can be hard and our experts are always on hand to sensitively guide you through the process.
What are memorial benches? Commemorative benches give our customers a place to remember their loved ones. They are placed in a public or private space to celebrate the life of a person who has died. It is also a way of offering those who are grieving a sense they are 'giving back' to the community because many people will enjoy the seat.
Whatever the style you choose, you can be sure of a memorial that will provide a long-lasting tribute. We are proud to be able to offer a beautiful range of benches, seats, and plaques. We handle each order with great care and sensitivity and will consult you throughout the process to ensure your order is met.
Once your product has been made, we can organise for efficient and convenient delivery.
Personalising your memorial bench.
Choose if you want your commemorative message engraved straight on to the seat slat or on a more traditional plaque.
With many font options and even the option to add motifs and emblems, we can work with you to get the message you want to share looking just how you want it.
Bench Engravings
Let us help you to choose the bench that will best commemorate your loved one.
Whether its a beautiful message, a donation message or just a persons, club or town name, a carved inscriptions will last the test of time and always be there to be seen.
We provide an in-house engraving service so you can fully personalise your memorial bench with meaningful words, such as 'In remembrance of or 'Never forgotten'.
With nearly a hundred fonts to choose from we have something for everyone.  We recommend Arial or Times New Roman for a classical and sophisticated font, both available in italic.
We engrave our memorial benches using the latest CNC technology which gives a beautifully clean and detailed cut every time. All our commemorative inscriptions are "V-cut", with this method we can create sharp corners and recreate any image.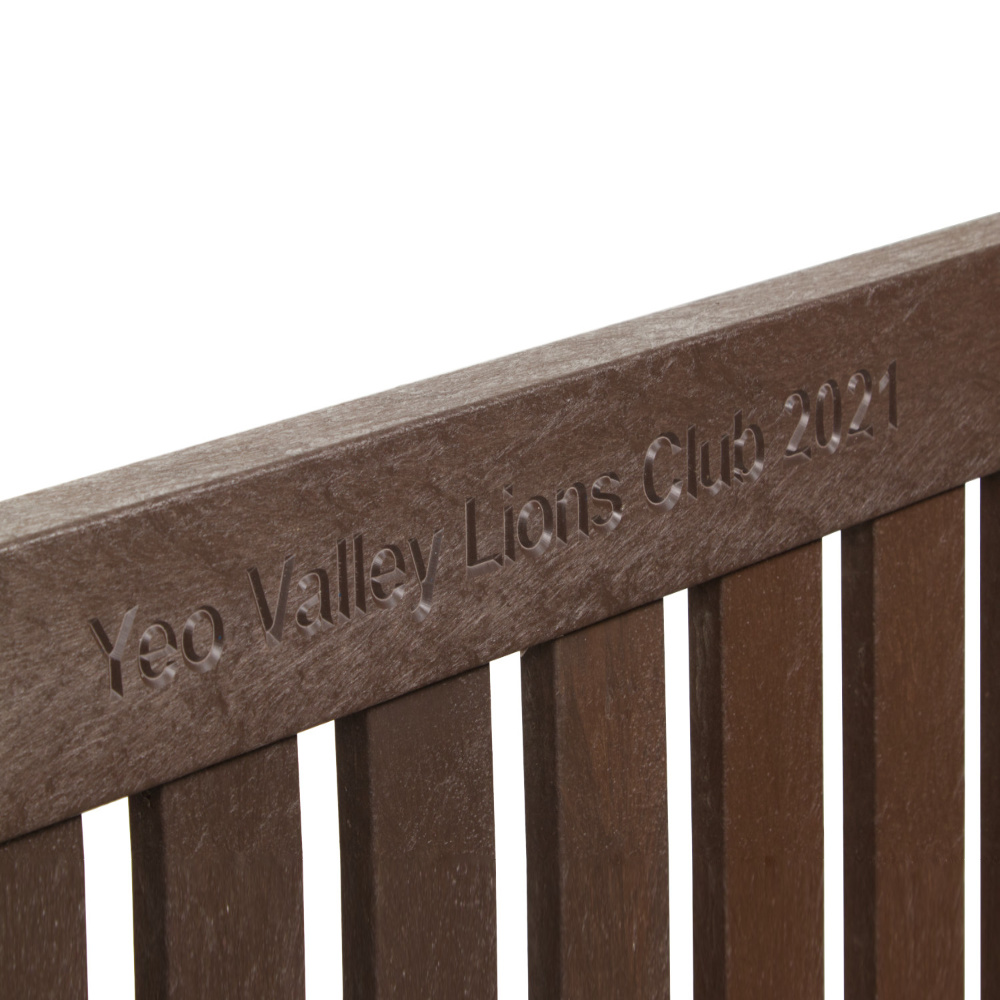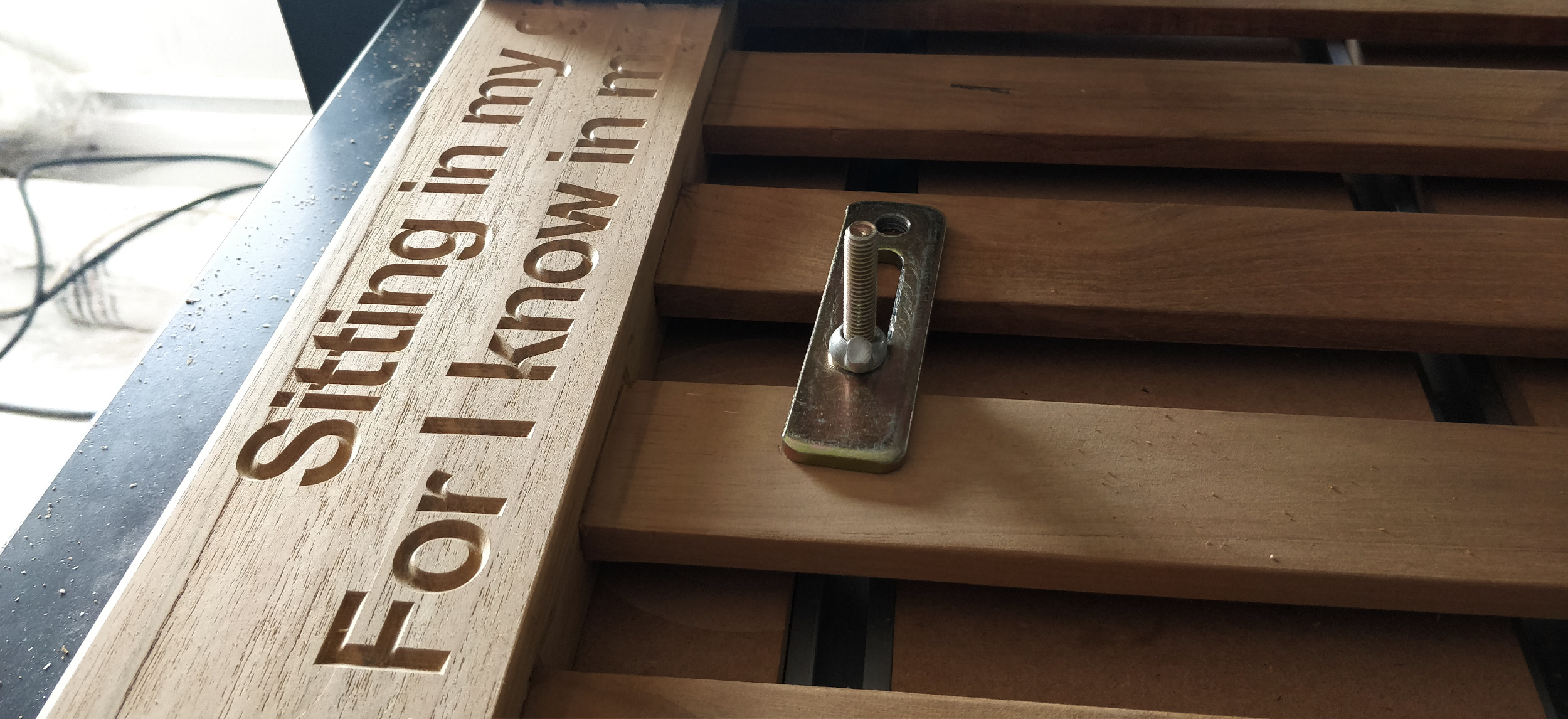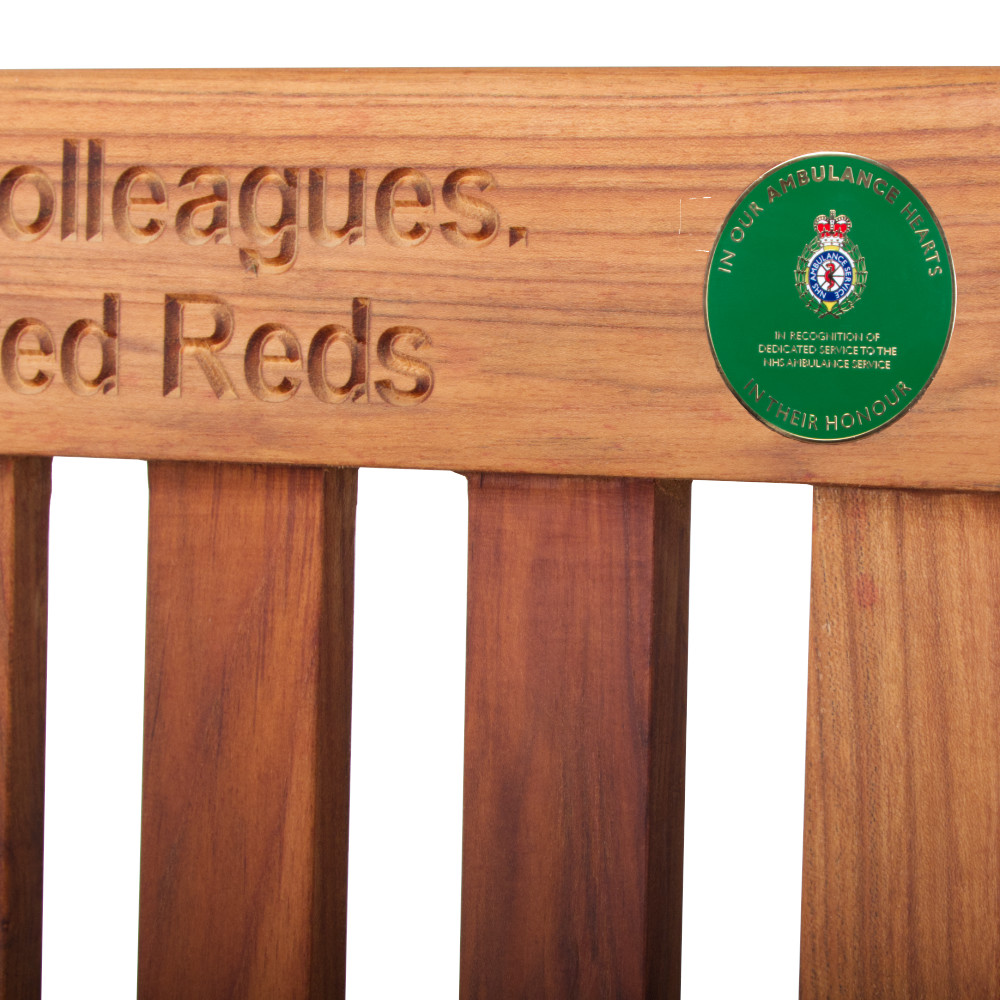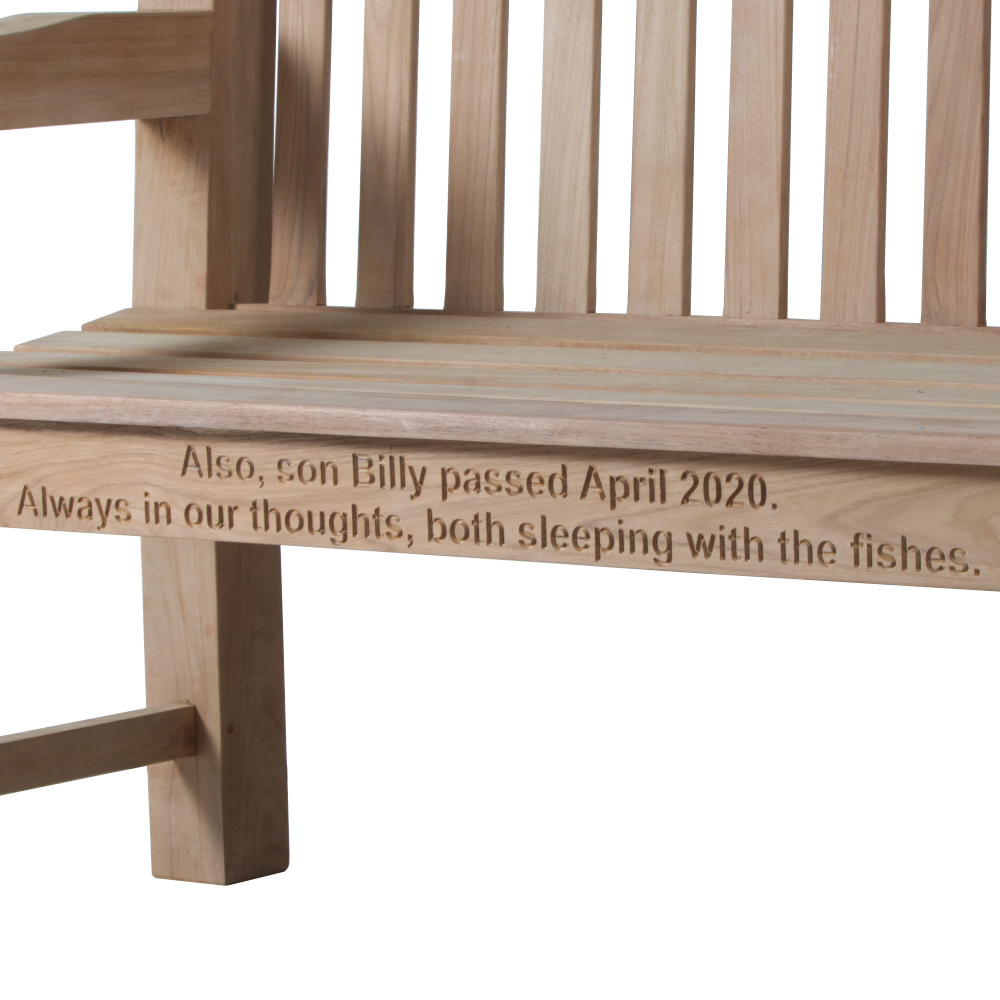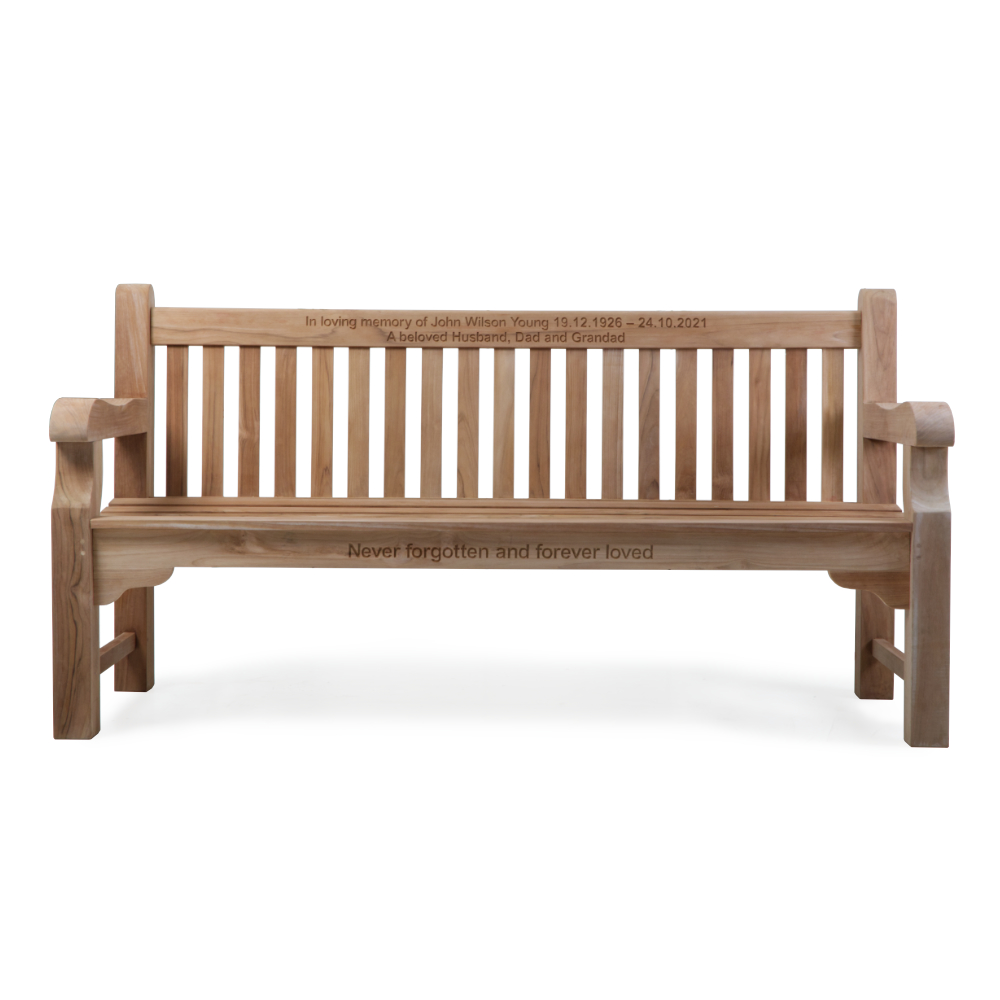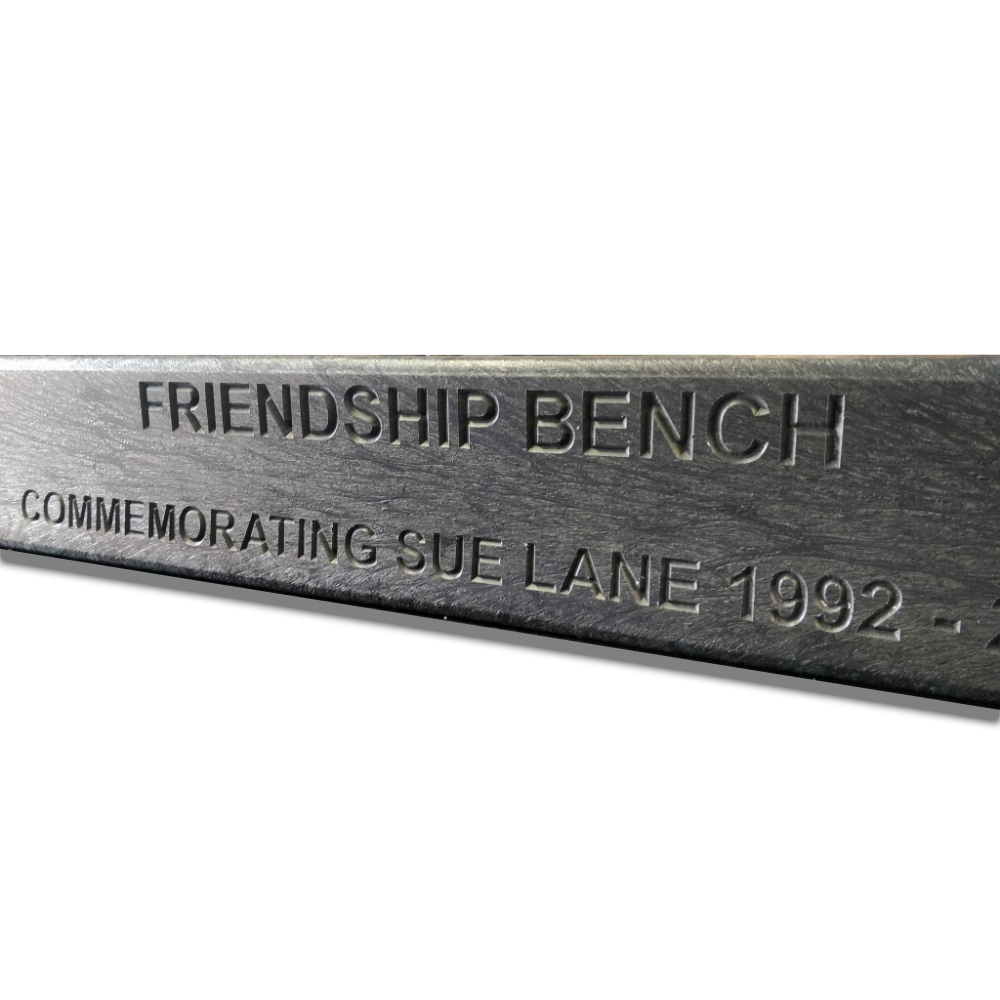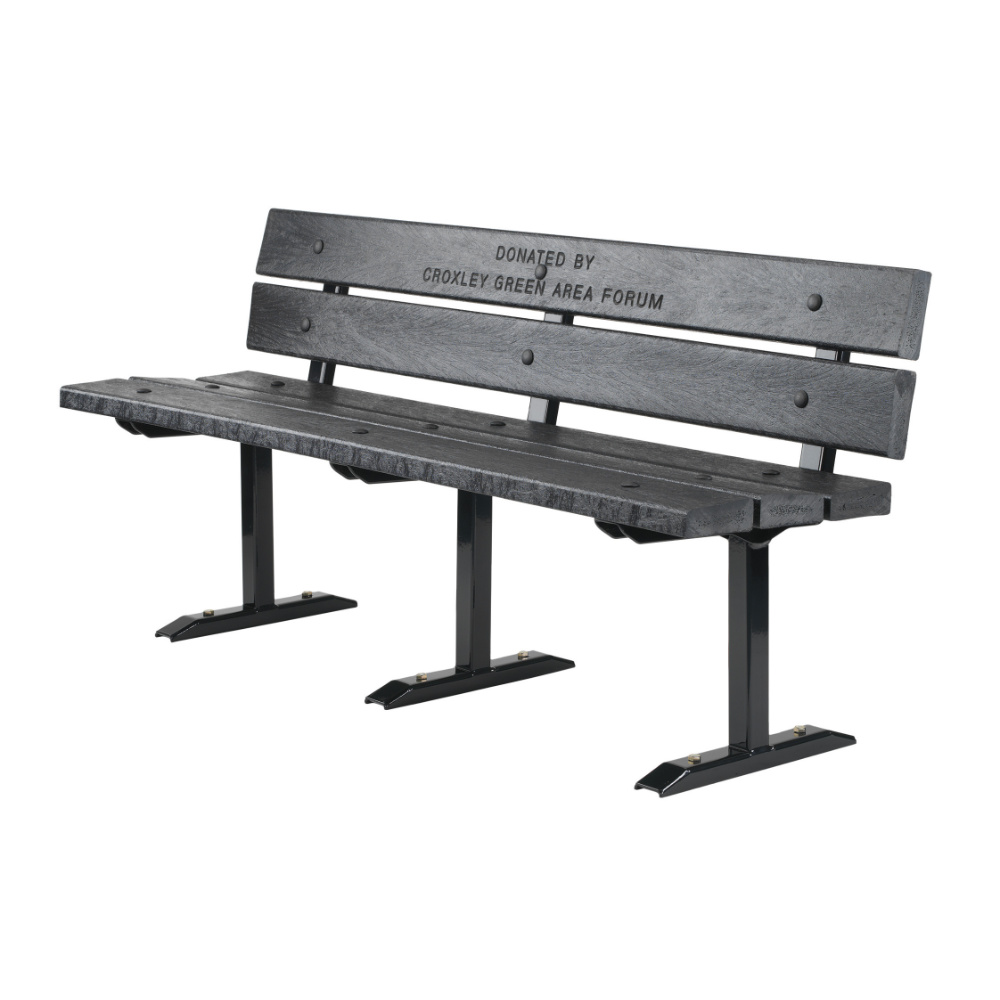 Commemorative Plaques
A plaque is a traditional way to personalise a seat or bench. With chamfered edges and countersunk screws they provide a clean and unobtrusive look. Our cast bronze and aluminium plaques are a substantial 7mm thick. Each one is carefully recessed in to the seat to ensure a perfectly flush finish and fitted with tamperproof stainless screws to ensure their security. All our plaques start at 150 x 50mm, the size is gradual increased to make a perfect fit with the requested inscription.
A wide range of benches and seats in materials including recycled plastic, teak, oak, cast iron, and iroko. Combine with our in-house engraving services or plaques mean you can have the perfect memorial, quickly.
Ready for despatch in as little as 5 days – Teak memorial benches are delivered fully assembled!
Recycled plastic memorial benches: We offer a number of recycled plastic seats and benches in different shapes. These are environmentally friendly and are manufactured to the highest quality, and divert waste materials from landfill to create a beautiful and sustainable product.
Cast iron memorial benches: Cast iron memorial benches or seats are elegant, weather-resistant, and hard-wearing. The cast iron base is available with either wood effect recycled plastic or iroko seats.
Teak memorial benches: Our teak seats are supplied already constructed and have options for painting or oiling, so your teak can stay looking smart for many years to come.
Oak memorial benches: If you want to memorialise a loved one, why not consider an oak memorial bench? Our oak memorial seats are handcrafted using the highest quality oak.
Iroko memorial benches: Iroko is a versatile hardwood offering a robust, beautiful, and stylish option for a memorial bench or seat.
Why choose us?
Personal customer care: Our customers are at the heart of our business and we also provide a personal and friendly service. Rest assured that our team will be with your every step of the way so you can capture the memory of a loved one perfectly.
Quality: Earth Anchors offers high-quality and long-lasting recycled and recyclable plastic products, as well as furniture made from other materials. Our products meet the highest quality standards.
Choice: We have a wide choice of benches made from different materials, designed to seat two to four people. They are commonly made of wood such as oak, teak, or iroko, but our benches can also be made from recycled plastic or cast iron.
Sustainable: We offer a sustainable ethic through everything we do. Our recycled plastic products minimise waste and will never rot or splinter. They use materials that would otherwise end up in landfill and repurpose them into stunning furniture.
Expertise: Our years of providing memorial benches has taught us a lot about the best way to achieve the customers wishes.